As I mentioned in a previous post, I was finally selected for jury duty! I'm one of those weirdos who actually has been looking forward to jury duty for quite some time. It's our civic duty. As an IT guy my job is to help others, so helping my community by serving on a jury was the next logical step. I've been looking forward to this since I was 18, and at almost 30 it was about damn time to be called!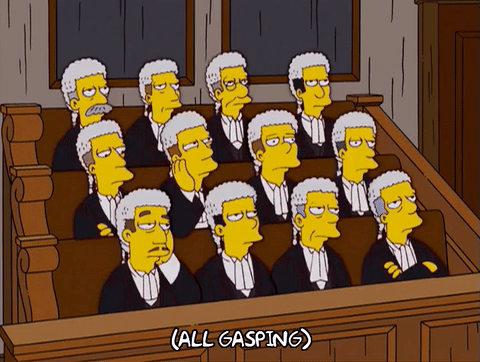 Jury duty in The Time Of COVID
One of my coworkers has served on a jury like five times, so as soon as I responded to the summons she was the first one I needed to talk to. What do I bring? What do I expect? Where do I park?!
She didn't have all the answers I was looking for, so I checked out the jury site for my county. They also didn't really have the answers I wanted (do I need to bring a pen and paper for notes?
The two weeks of disapointment
Full disclosure: I started writing this post in August when I was summoned.
Spoiler: never got to serve.
The first Friday I was supposed to call in, I was actually at a park with Best Frand for a socially-distanced bike ride. That was a lot of fun. We had to wait until the voicemail was updated before we could start because I was just so excited to be called in. I got ADHD-brain halfway through so I had to listen to it again, and then when I got home that night listened to it one more time just to be sure. No orientation for me. Oh well.
Because I over-think everything, I hit the Googles again and found there was a web version of the voicemail. Finally! Government is modernizing! So that tab was to be never closed. My routine for the next two weeks was every morning, even weekends, open that tab on my phone, refresh, and look for my number. It never appeared.
There was one day where I woke up at 7:45 (working from home day), juror call time was 8:00, I live 20 minutes from the courthouse, and as soon as I saw the time I was in a BLIND PANIC until I saw I wasn't called. I'll say this was the only time I was relieved I wasn't being called in.
Afterwards and reflections
While I was pretty disappointed I didn't have to go in, it was at the same time a blessing. For two weeks I got to push projects and meetings back because I had no idea if I was going to be in the office. Pushy vendor wanted to schedule some mind-numbing call to talk about their latest features? Sorry, I've been called for jury duty and don't know if I can make it. Department wants to schedule time to come and fix a problem? Sorry, jury duty, but hey let's ask one of the other guys to do it.
So there you go. Now I have to wait two more years before I can be called again.
Holy schnikes, I posted 12 days ago?!?! I could have sworn it was last weekend.
Further proof that time does not exist in the COVID times. This last week and a half-ish I've been going to my aunt's place to feed her cat while she's away. She keeps thanking me for doing that, and I'm like "I should be thanking you for an excuse to put on pants and get out of the house every day."
He'll squeak at me when I pull up, I got head bonks the other night, we have our own routine I hang out at least until he's done eating wet food, we'll hang and he gets scritches, or sometimes he does the 500-point Kitty Inspection of my car. Usually when he's done eating he fucks right off and does Cat Stuff, so I leave. Hey bud if you don't wanna hang today that's fine. But yeah, Geoffrey George Kitty Mow is a pretty cool cat, I like when I get to feed him 😊
Slowly getting back into the swing of regularly scheduled posts, thank you for reading!